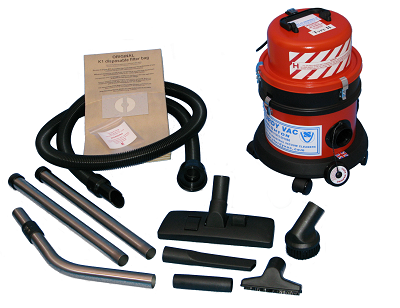 This machine is powered by a 1,000 watt Direct Air Flow Two Stage Motor. The unit incorporates Three Stages of Filtration.
Stage One: Primary Separation takes place in a Microfibre Polypropylene Disposable Bag secured within a 10 litre Pressed Steel Canister fitted with 32mm Plastic Screwed Connector.
Stage Two: 11" Diameter High Efficiency Fabric Filter protects the Vacuum Motor Head from ingress of dust.
Stage Three: Hepa Cartridge Chamber having Glass Fibre Paper Element 99.997% efficient on particles to 0.6 microns to BS 3928 secured to the negative pressure (suction) side of the power head. The canister supports the motor head which is secured by two toggle clips, All mounted on a Castor Base Trolley with Four 50mm diameter castors, supplied with 32mm Comprehensive Tool Kit. Pack of Five Microfibre Disposable Bags, Spare 11" diameter High Efficiency Filter Assembly. This machine is fitted with Lockable Clips, Diffuser and Blanking Cap with Safety Captive Plug and Strap on the canister.
This machine conforms to the Filtration requirements of the Type "H" Amendment BS 5415.
Suitable for 110 or 240 volt Single Phase 50Hz. Machine supplied with Full Operating Instruction Manual and Type "H" Test Certificate.
Machine Performance: Maximum Vacuum 2,450mm (96" W.G) Maximum Airflow 2.75.m3/min (42 litres per second)
Prices:
1000 Watt (110 Volt): Please call for price
1000 Watt (240 Volt): Please call for price